Richmond Swim Center at Kennedy High School
Jobsite Address:
4300 Cutting Boulevard, Richmond, CA 94801
Client:
West Contra Costa Unified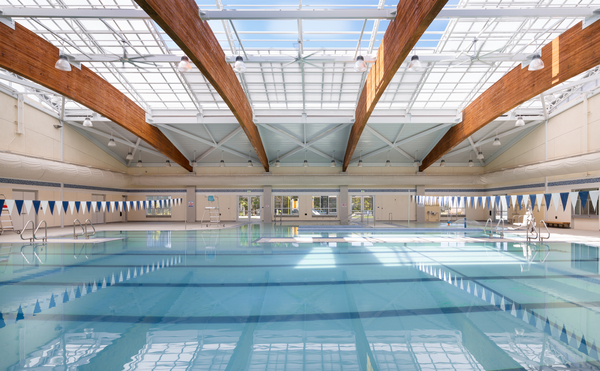 School District
Architect:
Mark Albertson, AIA
Contract:
$8.2 Million
Scope:
Complete removal of the degraded wood roof assembly over the natatorium and hazardous material abatement associated with demolition work. Upgrades to the natatorium includes additions of a new roof diaphragm assembly consisting of steel cross bracing and metal decking and addition of an operable skylight assembly with glass gable walls. Complete replacement of the HVAC system and lighting systems. Substantial reconfiguration of the existing swimming pool including new shell components, perimeter coping, plaster, tile and underwater lighting; relocation of an existing underground chlorine storage tank to an aboveground location. New interior wall finishes within the connecting corridor and natatorium including plaster and tile. Site improvements include landscape, hardscape, picnic areas and one play structure within an existing enclosed courtyard. Revisions and upgrades to the bathhouse to meet latest building accessibility requirement.