Korematsu Middle School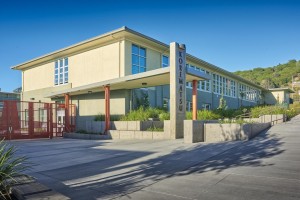 Jobsite Address:
7125 Donal Avenue, El Cerrito,
CA 94530
Client:
West Contra Costa Unified School District
Architect:
H Y Architects, Inc.
Contract:
$45.2 Million
Scope:
Demolition of the existing buildings except for one large wood framed building. Major seismic renovations to this existing building including the addition of new footings to the basement. Three new cast in place concrete and structural steel buildings after roughly 30,000 cubic yards of export to terrace the site. New underground utilities, beautiful hardscape and even green roofs will make this school a great addition to the community. New buildings consist of a large Gymnasium, a Multipurpose building and a three storied state-of-the-art classroom building. The classroom spaces include a dance studio, science laboratories and art rooms. The majority of the windows, especially those in the library overlook the Golden Gate Bridge across the bay.
Project Completion:
March 2016